A Voice of Baltimore Feature, an excerpt from
BLACK OCTOBER AND THE MURDER OF TURK SCOTT
The Case Files of Homicide Lt. Stephen Tabeling
A NEWLY PUBLISHED MINI-eBOOK ON AMAZON.COM

By Stephen Tabeling and Stephen Janis

Before joining the Baltimore Sun and beginning more than 20 years of celebrated commentary on Maryland politicians and local citizenry for WJZ-TV-Channel13, Michael Olesker was a crime reporter for the now-defunct News American newspaper that until 1986 was published by the Hearst Corp.
Along with reporter Joe Nawrozki, who later also worked for The Sun, Olesker was first, in 1973, to report the Black October murder of drug-dealing State Del. James "Turk" Scott.
Prior to the murder, Nawrozki told Voice of Baltimore in an email earlier this week, he and Olesker broke the story of Scott's drug-dealing, initially being prevented by the News American's lawyer — who was also a lobbyist at the time in Annapolis — from identifying Scott by name.
So to get the drug-dealing politician's nefarious activities on record, "we had to run a story — without naming Scott — that said 'a member of the Maryland House of Delegates' was the target of a major investigation by the Justice Department for moving multi-kilo shipments of heroin from New York to Baltimore," Nawrozki wrote in his email.
He and Olesker were subsequently "subpoenaed by Scott's attorney," he said, "in a pre-trial hearing to force us to reveal our sources; [however] the assistant U.S. attorney [on the case] got us off the hook.
"But speaking for myself," he concluded, "I was a tad scared that my two little babies at home would never hear from daddy again."
Fortunately for Nawrozki and Olesker, "The judge ruled in our favor," he said, and the two reporters were neither held in contempt nor required to do any jail time.
And they never revealed their sources.

Following is EXCERPT 3 from the newly published mini-Ebook on Amazon.com, by former Homicide Detective Stephen Tabeling as told to Fox45 Investigative Producer Stephen Janis. For details on the murder of Del. Turk Scott see EXCERPTS 1 & 2 of Black October on
Voice of Baltimore (click here) and (here)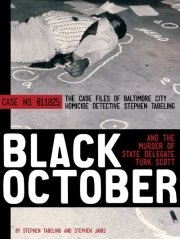 CHAPTER 2: Gambling on Pennsylvania Avenue
From the Case Files of Homicide Lt. Stephen Tabeling
Take it from me, there's nothing more complicated, exhausting — and risky — than investigating other cops.
Imagine for a minute, that your boss came to you with information that co-workers were breaking the law. Imagine if he or she then asked you to investigate their crimes and build a case against them.
Sure, it sounds intriguing, maybe even exciting to someone who has never done it.
But being the bad guy isn't fun; in fact, if you're the cop going after other cops it can be downright dangerous.
One thing you learn quickly as an investigator is that no one wants to get caught. And if the suspects have a gun and a badge, they can sure enough make it harder for you to catch them.
And that's not even accounting for the well known fact that investigating cops is a quick path to occupational isolation and inevitable institutional blowback.
But that doesn't mean it's not important. In fact, in my opinion, as a society, how we police ourselves is a good indicator of how effective a police department will be in general.
That's because cops who don't follow the law aren't very good at enforcing it.
And therein lies the rub.
How do you police people with guns and badges? How is it possible to create an enforcement mechanism that can get past the insular relationships and tight-knit community of cops to ferret out the bad ones?
It's not easy, to say the least.
That's why when I read the statement in the downtown chambers of the Baltimore Criminal Justice Commission in the spring of 1966, I knew I was headed into a world of trouble.
Cop trouble, the kind that hits you across the forehead. A sense of foreboding that percolates in the mind, an instinctive sixth sense that makes you naturally wary of a potential career-ending mess.
FINISHED READING THE STATEMENT
And by the time I finished reading the statement of the woman who recounted how Baltimore City police officers were involved in the numbers racket, I knew the end result of the case before it even began.
Like I said: Trouble.
I had been called to the offices of the Baltimore Criminal Justice Commission in 1966 by one of the best legal minds in the city, now-retired Court of Special Appeals Judge Charles E. Moylan.
Judge Moylan, who was then City State's Attorney, had gathered several high ranking law enforcement officials there at the behest of a reporter from the Baltimore Sun. The reporter had apparently stumbled onto evidence that several city police officers were involved with a large numbers operation on Pennsylvania Avenue.
Evidence in the form of a witness.
When I arrived, I sat down to read the witness's statement in the company of Judge Moylan, Ralph Murdy, a former FBI agent who was head of the commission, interim Police Commissioner George Gelston, and an ambitious Sun reporter.
It was an odd group to say the least.
The witness told us about her knowledge of a relationship between a powerful cop and a suspected numbers man named Phil Taylor who worked an illegal lottery operation at 1500 Pennsylvania Avenue: home to a barbershop, hotel and eatery, and also, according to the witness, a sizable numbers business.
But it wasn't the tale of the gambling operation that gave me pause. No, it was something that sparked the feeling of foreboding every cop develops over the course of his or her career.
Call it a survival instinct.
I think any police officer, particularly an investigator, will understand when I say that the longer you wear the uniform you either develop an extraordinary sense to sniff out trouble — or you soon find yourself working security in a parking garage. I'm not talking about the standard bad-guy-with-a-gun trouble. No, that comes the minute you put on the uniform.
I'm talking about the ability to see the s**t before it hits the fan. The aforementioned sixth sense that tells you the situation you're wading into is going to get you into trouble that will require a crowbar to pry you out of.
It's like witnessing a car accident in slow motion, you see two vehicles on a collision course long before they arrive at the point of impact.
I know this sixth sense and I believe in it because when I was called to that meeting downtown in the Criminal Justice Commission's office, I recognized from the minute I sat down in the chair and read the witness statement that whatever they were about to ask me to do would probably not end well for me.
I'm not trying to give away the story, or add a touch of fatalism to the investigation I am about to recount; instead I'm trying to give you a sense of what it feels like and what it really means to be an investigator.
That is, the implications of looking into the soul of a city that I knew from experience had an uncanny ability to compromise the law in the pursuit of vice.
I had worked plainclothes and developed a pretty good sense of how money from illicit businesses like prostitution and gambling found its way into the coffers of seemingly legitimate enterprises. So I knew at that moment, that delving into this crime would put me on an island of sorts, a friendless way station where you have few friends and plenty of enemies.
Let me explain why.
THE POWER TO MAKE THINGS 'GO AWAY'
There was an alleged numbers man who our witness knew was making payoffs to a then unnamed high level Baltimore City police officer, a man who the witness said had the power to make things "go away."
And that's when the sixth sense kicked in. I mean, it's pretty obvious that investigating a police officer is not a choice job. It's almost a cliché to say that working the 1966 version of internal affairs was not a way to win friends and get promoted. However it wasn't cops going after cops that made me wary.
What my sixth sense told me, was that if a high ranking officer was involved, then quite likely a whole bunch of other people with influence, connections and ways to make an investigator's life miserable could also be on the take. And that is why I knew I was in for it.
Still, even though I had my doubts, what could I really say? Judge Moylan was a mentor, one of the best legal minds in the city who taught me both respect for and how to use the law effectively. Plus the case was the type of challenge that a good investigator lives for.
And maybe, to be honest, it was the type of case I lived for. Who knows what drives a person to do things that you know may end badly? It's sort of like career vertigo, you want to jump in feet first even though there is nothing but hardening concrete that awaits you.
So I said Yes. And as it turns out, I was an idiot.

CHECK OUT EXCERPTS 1 & 2 OF BLACK OCTOBER AND THE MURDER OF TURK SCOTT (click here) AND (here), AND READ A REVIEW OF THE MINI-eBOOK (click here).  In the fall, Tabeling and Janis will release a print volume that will include all of the most intriguing cases from the mini-eBooks. To be, as herein, previewed exclusively by Voice of Baltimore.