High school students, neighborhood residents and anti-gay protesters from the Westboro Baptist Church in Topeka, Kansas, faced off this week at a gay rights rally outside Glen Burnie High School dealing with same-sex marriage.
Photojournalist Kaitlin Newman was there on assignment for Voice of Baltimore and filed this report, along with exclusive photographs.
GLEN  BURNIE  HIGH  SCHOOL
STUDENTS AND COMMUNITY
VS.  WESTBORO BAPTISTS
I was not straight, I was not gay,
… I was Love. —Michael Hooper

By Kaitlin Newman

Kuethe Road, a normally peaceful and quiet area in Glen Burnie, was anything but quiet this past week: It was flooded with rainbow socks, bracelets and multicolored hairdos, along with placards proclaiming — and condemning — gay rights and same-sex marriage.
Signs dotted the entire street and people crammed on top of each other just to get a shout-out across the road where Glen Burnie High School sits.
The school was closed at midweek in anticipation of a protest planned by Westboro Baptist Church (WBC), the independent Topeka, Kansas, organization known for its extremist stance against homosexuality and for protest activities that include desecrating the American flag and picketing funerals of U.S. servicemen and women. Widely considered a hate group, the church consists primarily of family members of its head and founder, Fred Phelps, and claims to have about 40 adherents.
The high school students, just one part of the liberal and diverse Glen Burnie
community, met the Westboro Baptist Church members with signs proclaiming acceptance, peace and love — and pro-gay rights movement slogans.
The WBC members crowded together in front of the high school, protected by
armored police officers, behind crime-scene tape. A line of police and a road was all that separated the red-shirted WBC members from the parade of rainbow flags and neon posters.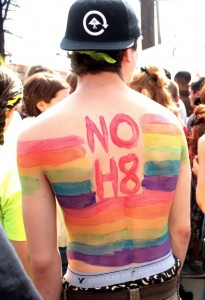 High school students, both gay and heterosexual, rallied together in support of the gay community, displaying signs preaching the message of love and acceptance.
Westboro Baptist Church signs emblazoned with such words as "FAG!" and phrases like "You eat your kids" stood in sharp contrast to student and community-member signs which read, "Whether you're gay, straight, or bi, we're all human inside"; and "We're here, we're queer, get used to it!"
(The students didn't make that up — the here/queer slogan has been used by advocates since the beginning of the gay rights movement.)
One particularly egregious WBC placard read: "A fag soldier is a dead solider."
Hundreds of people gathered to make it clear to WBC that they were not welcome in the community.
Among the comments overheard:
"I feel as though a lot of people view these protests as a joke. They see the signs we make, and the things people do, and it looks silly. But Westboro is a joke, and I feel this is a good way to fight them. Satire has worked before in the past, so it can work again now."
— Dustin Horsman, 21, student
"The anti-protest turned out to be more so full of love than negativity, I never felt so much support in my life. If anything, the protest brought together people, not make them feel terrible about who they are."
— Ashley Carr, 17, student
"There I was not straight, I was not gay, or transsexual… I was Love."
— Michael Hooper, 21, freelance poet

kaitlinelnewman@gmail.com

— VoB Managing Editor AL Forman contributed to this report.