E. MONUMENT ST. BRANCH PICKETED
BY OCCUPY BALTIMORE PROTESTERS

Wells Fargo was "evicted" Thursday — symbolically — from its East Baltimore branch on Monument St. by Occupy Baltimore protesters and a Good Jobs Better Baltimore "sheriff" who gathered to serve notice on the banking giant that they would no longer accept what the group called the bank's "negative effects" on Baltimore and other U.S. cities as an alleged corporate tax dodger and bad actor in the foreclosure crisis and housing market collapse.
Other groups participating in the "eviction" included United Healthcare Workers locals from the Service Employees International Union (SEIU) and Occupy Our Homes: Baltimore, an Occupy Baltimore group which attempts to disrupt the foreclosure of people's homes.
Last fall, Occupy Baltimore maintained a presence in the Inner Harbor at McKeldin Square for nearly three months until being evicted in late December by city police on the order of Mayor Stephanie Rawlings-Blake.
Charm City photojournalist Bill Hughes was on the scene Thursday at Wells Fargo and filed the attached photographs with Voice of Baltimore.
The event took place at noon; demonstrators numbered approximately 20 people.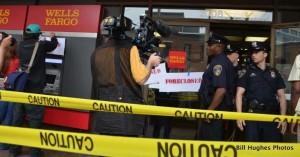 According to a recent Citizens for Tax Justice report, Wells Fargo was among 249 U.S. corporations that allegedly paid less than their fair share of federal corporate income taxes in 2010, and in fact received a $17.9 billion tax subsidy between 2008-2010.
Regarding the housing market collapse, the bank characterizes its questionable lending practices as the rogue actions of a small number of low-level employees.
However a report just issued this month by the U.S. Department of Housing and Urban Development concluded that managers at Wells Fargo and other major banks were aware of problems but took no action to correct them.
The Wells Fargo protest was organized by Good Jobs Better Baltimore.

— VoB Staff report