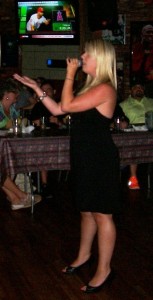 CONTEST WINNER NAMED MONDAY AT PADONIA STATION
Stephanie Bowen (pictured, right) was named the first ever "Voice of Baltimore" at Padonia Station Monday night, winning out over a field of 17 finalists for the honor.
One of the two numbers she performed for an SRO audience at the popular Lutherville sports nightclub was the national anthem, which she will reprise at an upcoming Baltimore Orioles baseball game at Camden Yards.
More than 100 Baltimore area singers competed for the honor over a six-week period beginning June 4.

Photos and story, plus video, to follow late-night Wednesday.
Stephanie was interviewed in the a.m. on radio station WNST.net 1570-AM by "Catch the Buzz" co-hosts Paul Mittermeier and Damon "The Bulldog" Yaffe. Check out the podcast (at http://bit.ly/SS1qYS) by clicking here.
(VoB Photo/Debi Fowler)